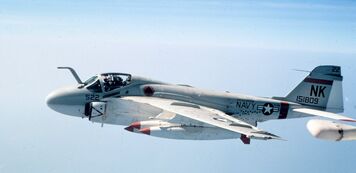 The Grumman A-6 Intruder was an American, twin jet-engine, mid-wing attack aircraft built by Grumman Aerospace. In service with the U.S. Navy and U.S. Marine Corps between 1963 and 1997, the Intruder was designed as an all-weather medium attack aircraft to replace the piston-engined A-1 Skyraider. As the A-6E was slated for retirement, its precision strike mission was taken over by the F-14 Tomcat equipped with LANTIRN pod. A specialized electronic warfare derivative, the EA-6B Prowler, remains in service.
The definitive attack version of the Intruder with vastly upgraded navigation and attack systems, introduced in 1970 and first deployed on 9 December 1971. The earlier separate search and track (fire control) radars of the A-6A/B/C were replaced by a single Norden AN/APQ-148 multi-mode radar, and onboard computers with a more sophisticated (and generally more reliable) IC based system, as opposed to the A-6A's DIANE discrete transistor-based technology. A new AN/ASN-92 inertial navigation system was added, along with the CAINS (Carrier Aircraft Intertial Navigation System), for greater navigation accuracy.
Tech Level: 4
Damage Base: 20
Min./Max. Airspeed: 3/12
Maneuver (Loaded): 4 (6)
Aerobatic (Loaded): -1 (-3)
Defence (Loaded): 12 (11)
Climb Rate (Loaded): 0.4 (0.3)
Shallow/Steep/Power/Vertical Dives: 1/2/3/4
Operational Ceiling: 8
Stores External/Pylon/Internal: 9/0/0
Guns:
Cost: 376
Maintenance Cost: 45
Voodoo Scuttlebutt
Edit
Ad blocker interference detected!
Wikia is a free-to-use site that makes money from advertising. We have a modified experience for viewers using ad blockers

Wikia is not accessible if you've made further modifications. Remove the custom ad blocker rule(s) and the page will load as expected.