Blackburn BuccaneerEdit
The Blackburn Buccaneer was a British low-level strike aircraft that served with the Royal Navy and Royal Air Force between 1962 and 1994.
Originally designed for the Royal Navy with the delivery of nuclear weapons in mind, the Bucaneer soon evolved into a formidable conventional strike aircraft. The Royal Air Force would also adopt the design in the wake of the F-111K cancellation.
The Buccaneer would serve in the Persian Gulf War by lasing targets for other strike aircraft carrying precision guided munitions.
Blackburn Buccaneer S.1Edit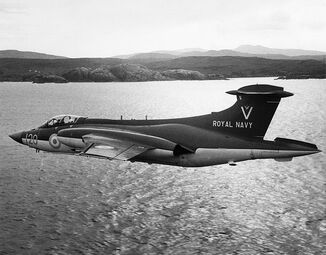 First production model, powered by de Havilland Gyron Junior. turbojet engines. 40 built.
Blackburn Buccaneer S.2Edit

Development of the S.1 with various improvements and powered by the more powerful Rolls-Royce Spey turbofan engines. From 1962 10 were built by Blackburn Aircraft Ltd. and 74 by Hawker Siddeley Aviation Ltd.
Tech Level: 4
Damage Base: 21
Min./Max. Airspeed: 3/13
Maneuver (Loaded): 5 (6)
Aerobatic (Loaded): -1 (-2)
Defence (Loaded): 12 (11)
Climb Rate (Loaded): 0.5 (0.3)
Shallow/Steep/Power/Vertical Dives: 1/2/3/4
Operational Ceiling: 8
Stores External/Pylon/Internal: 4/0/4
Guns:
Cost: 368
Maintenance Cost: 44
Trait: Carrier Capable
Voodoo Scuttlebutt
Edit
Ad blocker interference detected!
Wikia is a free-to-use site that makes money from advertising. We have a modified experience for viewers using ad blockers

Wikia is not accessible if you've made further modifications. Remove the custom ad blocker rule(s) and the page will load as expected.