McDonnell Douglas F-15Edit
F-15 Eagle is a twin-engine, all-weather tactical fighter designed by McDonnell Douglas to gain and maintain air superiority in aerial combat. It is considered among the most successful modern fighters with over 100 aerial combat victories with no losses in dogfights. Following reviews of proposals, the United States Air Force selected McDonnell Douglas' design in 1967 to meet the service's need for a dedicated air superiority fighter. The Eagle first flew in July 1972, and entered service in 1976. The F-15 is expected to be in service with the U.S. Air Force until 2025.
McDonnell Douglas F-15A EagleEdit

Single-seat all-weather air-superiority fighter version, 384 built 1972–1979.
McDonnell Douglas F-15C EagleEdit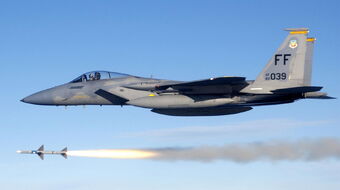 Improved single-seat all-weather air-superiority fighter version, 483 built 1979–1985. The last 43 F-15Cs are being upgraded with AN/APG-70 radar. In actual combat, the ratio of kills: losses is unmatched to date by any other plane with over 100 air kills for zero AtA losses.
Tech Level: 5
Damage Base: 21
Min./Max. Airspeed: 3/29
Maneuver (Loaded): 4 (6)
Aerobatic (Loaded): 0 (-2)
Defence (Loaded): 17 (14)
Climb Rate (Loaded): 3 (2)
Shallow/Steep/Power/Vertical Dives: 2/4/7/9
Operational Ceiling: 13
Stores External/Pylon/Internal: 4/6/0
Guns: M61A1 Cannon (6 Barrel)
Cost: 1200
Maintenance Cost: 120
McDonnell Douglas F-15E Strike EagleEdit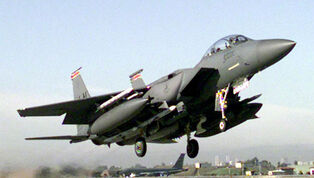 F-15E Strike Eagle is an all-weather multirole fighter, derived from the McDonnell Douglas F-15 Eagle. The F-15E was designed in the 1980s for long-range, high speed interdiction without relying on escort or electronic warfare aircraft. United States Air Force (USAF) F-15E Strike Eagles can be distinguished from other U.S. Eagle variants by darker camouflage and conformal fuel tanks mounted along the engine intakes.
McDonnell Douglas F-15SE Silent EagleEdit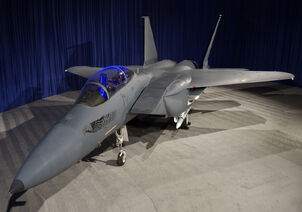 F-15SE Silent Eagle is an upgrade of the F-15E by Boeing using stealth features, such as internal weapons carriage and radar-absorbent material.
Voodoo Scuttlebutt
Edit
Ad blocker interference detected!
Wikia is a free-to-use site that makes money from advertising. We have a modified experience for viewers using ad blockers

Wikia is not accessible if you've made further modifications. Remove the custom ad blocker rule(s) and the page will load as expected.