Firestorm: Oceania
Edit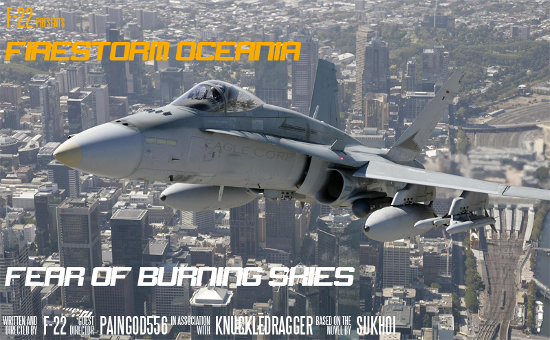 Merc Monthly
"Mercenaries from all walks of life have flocked to Papua New Guinea for UN mandated missions in the Timor/Arafura Sea No Fly Zone. The lucrative contacts have created a booming economy in the Port Moresby region thanks to the influx of pilots and ground personnel. Due to the lack of infrastructure in the area anyone looking to establish a business presence in the region would be foolish not to act now before the prime real estate around Jacksons International Airport is snapped up by hungry competitors."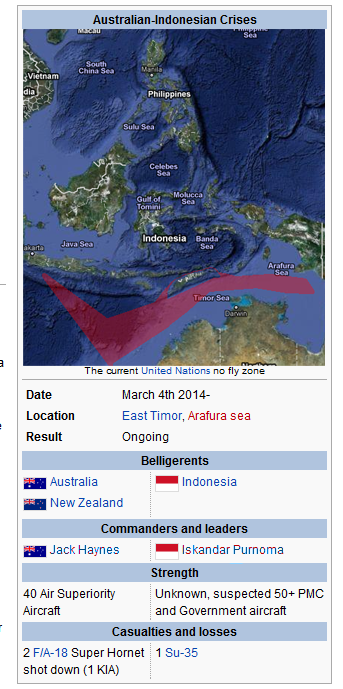 Wikipedia
Timor/Arafura Sea no fly zone (NFZs) is currently set out as per UN resolution 2232. The Chinese backed resolution outline a broad PMC patrolled zone where no state military aircraft or ships may enter in a effort to deter the increasing amounts of mutual and at times blooded aggression between Australia and Indonesia over the affairs of East Timor and its resources.

Air Action Weekly
"In a interesting turn of events, the Ansett airline has been reconstructed as a budding Private Military Company. CEO of the reborn Ansett Australia William Thompson submitted the formal papers to the Australian Defence Force mid last week, this combined with early leaked advertising suggests that Ansett intends to emulate fellow Australian PMC Showtime Flight Services (SFS) success in the region."
Ad blocker interference detected!
Wikia is a free-to-use site that makes money from advertising. We have a modified experience for viewers using ad blockers

Wikia is not accessible if you've made further modifications. Remove the custom ad blocker rule(s) and the page will load as expected.