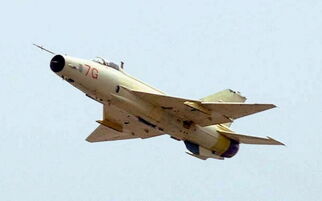 The J-7 'Fishbed' is a People's Republic of China-built version of the Soviet Mikoyan-Gurevich MiG-21. Though production ceased in 2008 it continues to serve, mostly as an interceptor, in several air forces.
Tech Level: 5
Damage Base: 14
Min./Max. Airspeed: 3/16
Maneuver (Loaded): 3 (3)
Aerobatic (Loaded): 1 (1)
Defence (Loaded): 14 (13)
Climb Rate (Loaded): 1 (1)
Shallow/Steep/Power/Vertical Dives: 2/4/5/7
Operational Ceiling: 12
Stores External/Pylon/Internal: 1/2/0
Guns: 2 x 30mm Cannon
Cost: 638
Maintenance Cost: 64
Voodoo Scuttlebutt
Edit
"We arrived at the warehouse, where our flight's MiG-21s were being held. To our surprise we found some cheap Chinese ripoff. Well let's just say we ended out contract there and the J-7s became these." - Ivan "Stacks" Stakhovsky, revealing a fork
Ad blocker interference detected!
Wikia is a free-to-use site that makes money from advertising. We have a modified experience for viewers using ad blockers

Wikia is not accessible if you've made further modifications. Remove the custom ad blocker rule(s) and the page will load as expected.