Su-27 Flanker
Edit
The Sukhoi Su-27 is a single-seat, twin-engine Mach-2 class jet fighter originally manufactured by the Soviet Union, and designed by the Sukhoi. It was intended as a direct competitor for the large United States fourth generation fighters, with 3,530-kilometre (1,910 nmi) range, heavy armament, sophisticated avionics and high manoeuvrability. The Su-27 most often flies air superiority missions, but is able to perform almost all combat operations. Complementing the smaller MiG-29, the Su-27's closest US counterpart is the F-15 Eagle.
Sukhoi Su-27 'Flanker'
Edit
Tech Level: 6
Damage Base: 24
Min./Max. Airspeed: 3/27
Maneuver (Loaded): 2(3)
Aerobatic (Loaded): 1(0)
Defence (Loaded): 16(16)
Climb Rate (Loaded): '3(3)
Shallow/Steep/Power/Vertical Dives: 2/4/6/8
Operational Ceiling: 12
Stores External/Pylon/Internal: 2/8/0
Guns: 1x30mm
Cost: 1,620
Maintenance Cost: 130
Sukhoi Su-30M 'Flanker'
Edit

The Sukhoi Su-30 is a twin-engine, two-seat military aircraft developed by Russia's Sukhoi Aviation Corporation. It is a multirole fighter for all-weather, air-to-air and air-to-surface deep interdiction missions.
Sukhoi Su-33 'Flanker'
Edit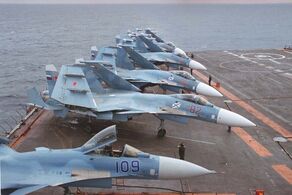 The Sukhoi Su-33 is an all-weather carrier-based air defence fighter designed by Sukhoi and manufactured by KnAAPO. It is a derivative of the Su-27 'Flanker' and was initially known as the Su-27K.
Sukhoi Su-35 'Flanker'
Edit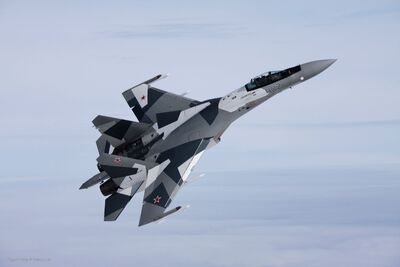 In the 1980s, Sukhoi was looking to upgrade its high-performance Su-27. The resultant Su-35 embodies aerodynamic refinements to give it more maneuverability, greatly enhanced avionics, longer range, and a more powerful engine. The first prototype, converted from a production Su-27, made its maiden flight in June 1988. The Su-35 was further developed into the Su-37, which has thrust-vectoring capabilities, and the Su-35BM, classified as 4++ generation fighter by its manufacturer. The new model entered into serial production as the Su-35S for the Russian Air Force in 2010.
Tech Level: 7
Damage Base: 24
Min./Max. Airspeed: 3/27
Maneuver (Loaded): 2(3)
Aerobatic (Loaded): 1(0)
Defence (Loaded): 20(17)
Climb Rate (Loaded): 4(3)
Shallow/Steep/Power/Vertical Dives: 2/4/6/8
Operational Ceiling: 12
Stores External/Pylon/Internal: 6/6/0
Guns: 1x30mm
Cost: 2,475
Maintenance Cost: 148
Traits: TVC
Voodoo Scuttlebutt
Edit